Originally three buildings, The Farmhouse dates back to the eighteenth century. A beautiful traditional pink gritstone construction with six bedrooms, it's reached by its own drive and there's parking for six cars immediately outside the door. For most of the year The Farmhouse serves as our family home, but in the summer school holidays we stay with my parents in Italy so we'd love to have you to stay here!
Recently renovated, the style is clean, modern and cosy rather than rustic. The dining room and kitchen are in a single open-plan space; the dining room and living room face south and have lovely views over the farm. There's a log burner, Sky TV, BluRay DVD, and a music system.
The ground-floor bedroom overlooks the garden. Also on the ground floor are a bathroom: bath with shower-over, lavatory, basin, towel radiator, and washing and drying machines; and a separate lavatory.
Up the main stairs are four bedrooms, and a bathroom with a walk-in shower, lavatory, basin, and towel radiator. The sixth bedroom has its own stairs from the ground floor, and has a lovely view over the pond.
All bedrooms have super-king double beds (which can be made up as twins if you prefer) with natural fibre duvets, cotton sheets and covers. All bed linen and towels are provided.
The kitchen has a beautiful AGA which I adore cooking on! But if you'd rather stick to the conventional equipment it's all there: ceramic hob, electric oven, microwave, fridge/freezer, dishwasher, and of course all the usual range of kitchen equipment: food processor, kettle, etc..
Oil-fired central heating keeps The Farmhouse deliciously warm 24 hours a day, there's a phone which you're welcome to use, and free wireless broadband internet throughout.
The Farmhouse has a gated and lit lawned garden which is secure for small children. There's a barbeque area with seating for twelve. Well behaved pets are welcome and there's plenty of room for off-the-lead walking on the farm. There's bags of room to smoke on the farm but please don't smoke inside. The farm is your playground: treat it as if you owned the place!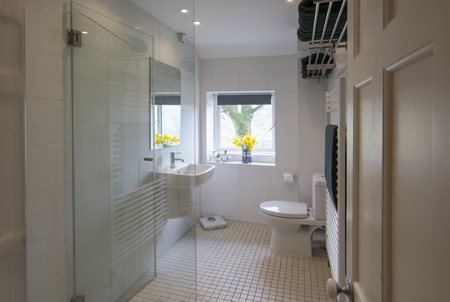 Shower room
Click to enlarge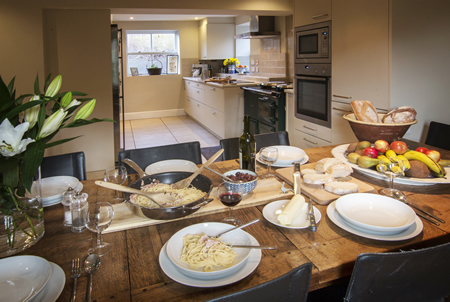 Kitchen
Click to enlarge
Guest book
"Delightful house set in a little bit of heaven, so peaceful - a real tonic!"
The M family
"We've had a great week. The house is beautiful - immaculately clean (thank you!). The kitchen has been great - so well equipped. Fresh flowers was a lovely touch. Beds were SO comfy!! Thanks again - we've had a wonderful time."
S.W.
"What an absolutely beautiful place. House and location perfect for a get-together, where we could all sit and eat together."
LW & family
"Fantastic! A wonderful place to explore. The house was stocked with everything we could want!"
The A family (St Louis)
"Beautiful house, perfect for our annual get together. We could have stayed for ever. Also mastered the AGA! Plenty of room for 12 adults."
The T family.
"We had a lovely two weeks at Farbrook. The house is very comfortable and had everything we wanted. Lovely walks from the house including to Three Shires Head."
The S family
"Great house in great setting. Fantastic local wildlife, especially owl family. The alpacas made us feel very welcome."
The F family
"Beautiful place and location. Lovely to use an AGA again. Appreciated good quality china, pots, bedding, etc. Thank you."
The B family
"We have all had a wonderful week at Farbrook Farm. Wonderful walks, great meals both in and out (Ship Inn and Ryles Arms were great) and loved the alpacas!! Even the weather cooperated - we'll be back!"
The B family (Sacramento. CA)
"A great family get-together in a lovely house with a beautiful location. A very comfortable stay. We enjoyed local walks and wildlife, and much more."
The W, R, & I families
"We had a wonderful week in this lovely cottage to celebrate my 60th. It was perfectly suited to what we wanted."
The C, P, & P families
"Thank you for our time in your beautiful house. Brilliant walks, great for children, and a perfect break from London."
The R family
"Fantastic location, facilities excellent. Enjoyed local walking, Roaches, and Buxton fringe festival! Alpacas rule!"
The H family
"Everyone enjoyed the stay, exploring surrounding stunning scenery! Best stocked kitchen. Hope to visit again."
The P-C family
"Beautiful house, well equipped, plenty of space for everyone. Thank you to Stephen for showing us the alpacas. Loved the AGA."
The McG, S, & G families
"Us, daughters, their husbands, and 3 grandkids have had a super week. Wonderful house and location for a big family gathering."
The J, F, & D families
"Super house for a family holiday. Lots of space, plenty of exploring streams, etc. The dogs have had a wonderful time, thank you!!"
M, G, & B