Coronavirus changes
We hope all our guests, past and future, are well, healthy, and as happy as possible in these strange times. We look forward to welcoming you here whenever you'd like to come. We've made a few changes in order to ensure your time with us is safe, secure, and stress free...
Cancellation policy
If you've booked with us and you're unable to take your booking due to coronavirus restrictions we will offer you either a full refund or a change of dates (whichever you prefer). For bookings made via an agency (eg. AirBnB, TripAdvisor, etc.) the agency's policy applies.
Cleaning
In addition to our normal deep clean between bookings, we now apply a dedicated antiviral cleanser to all high-traffic surfaces:
door and window handles, light switches, and keys;
appliance handles and dials (kettle, iron, hairdryers, fridge door, oven and microwave dials);
TV remotes, iPad, phone, heating thermostat;
toilet and tap handles;
food preparation areas, tables, and bathroom surfaces.
All sponges and cleaning cloths are of course new, and all linen is professionally laundered.
Contact
Normally we like to welcome you in person when you arrive, now however we'll give you a call on the phone to make sure all's OK and you have everything you need. If you need anything during your stay just give us a call or send an email and we'll sort it out.
The supermarket delivery services now have a 'keep their distance' policy ie. they will leave your groceries at the door, ring the bell, and wave as they leave. If you want to know more about their policy contact the supermarket directly.
Hi, I'm Gemma. Simon and I have lived at Farbrook Farm since 2000. Farbrook is a beautiful 18th century farm sitting in a quiet valley in the south west corner of the Peak District National Park on the edge of the village of Flash, the highest village in Britain.
Farbrook is a working farm where we breed alpacas for the fine fibre industry. In 2010 we converted our lovliest barn to self-catering accommodation:
Overbrook Barn
is the result. Now we've converted our alpaca
Shearing Shed
too. Overbrook Barn sleeps 8 in four double rooms; The Shearing Shed sleeps 8: 6 in 3 double rooms and 2 on a sofa bed in the living room. Both are very comfortable, cosy, and have modern equipment throughout.
We've had young children ourselves, and yours are very welcome. None of our livestock pose any danger to humans, both
Overbrook Barn
and
The Shearing Shed
have their own gated gardens, the farm is secure, and our access road is very quiet. We also have chickens, ducks, sheep, and often pigs: a paradise for city children! We have an enthusiastic and friendly black lab so we're very pet friendly and your well behaved pets are most welcome.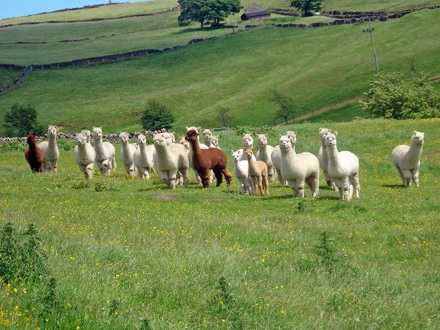 You'll be surrounded by fields of our beautiful and inquisitive alpacas and you're welcome to walk among them. Alpacas originate from the south-american altiplano. They're intelligent and inquisitive animals and make excellent rural pets. They're not agressive to humans but defend themselves and their young very effectively against predators. Easy to keep and highly efficient grazers they do very well in the UK where this young industry is focused on production of fine fleece for the European fashion industry.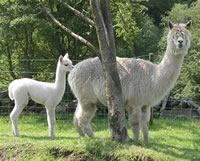 We have a herd of around thirty alpacas including males, females, and young ('cria'). You're very welcome to walk among the herd and you'll find they'll come to 'look you over'. If you do visit the alpacas please make sure you keep your dog on a lead..
If you'd like to meet some alpacas let us know and we'll arrange it.
For more information on alpacas see our website:
www.farbrookalpacas.com
.
We're in the centre of a network of footpaths and bridleways that offer some of the best walking and riding you'll find in the country. There's a huge amount to do locally, along with great eating and drinking.

I do hope you'd like to come and share our life on the farm for a little while and that these pages will help show you what we have to offer. If there's anything you'd like to know do get in touch with me.

Ciao!

Gemma